FRN Takes on the 1st Annual Mess Fest – Presented by the Binghamton Macaroni Kid
On Saturday, August 17th, 2019 a few FRN staff had the delightful opportunity to take part in the Binghamton Macaroni Kid's 1st Annual Mess Fest! Our staff had a great time interacting with all those who attended and were able to meet many new friends. Each organization that tabled at this event were required to prepare an activity for the kids (and some parents!) to get down and messy with. Our activity of choice was Fizzy Cloud Dough!
This colorful, squishy, fizzy and taste-safe activity was surely a hit! And while the kiddos were enjoying this awesome science experiment, other staff members were able to provide information about our agency and the services we offer in the surrounding areas.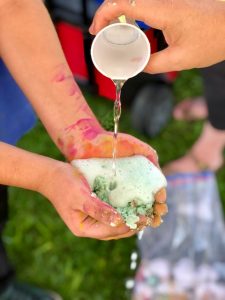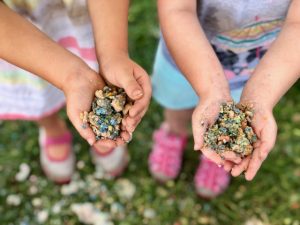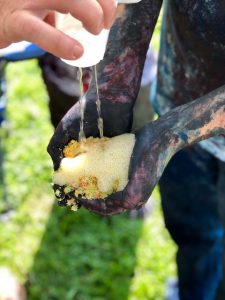 For those who are unfamiliar with who (or what) the Binghamton Macaroni Kid is, to give you a better idea of what kind of work they accomplish, here is a brief statement from the 'About Us' page on their website: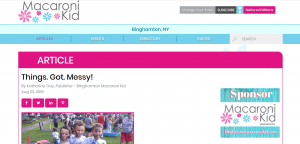 "Macaroni Kid was founded with two very specific goals: enrich communities and empower moms. We call it "E2" and it is the driving force behind all that we do.  How? We enrich communities by connecting the libraries, schools, rec centers, community centers and all of the wonderful organizations and businesses that create programming and fun for kids and families with local families. We empower [parents] by supporting our Publishers and giving them the tools, training and the platform to build their businesses and be a force for good in their communities."
In essence, the Macaroni Kid is an online community comprising of 500+ local editions scattered across the country, all established with a shared goal in mind; to bring families and communities closer to one another. This online collective of articles, recipes and guides is a great resource to utilize when trying to figure out what fun things there are to do in your area, as well as to check out topics that are important to parents!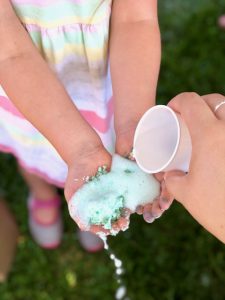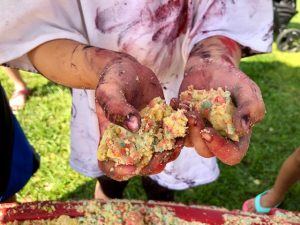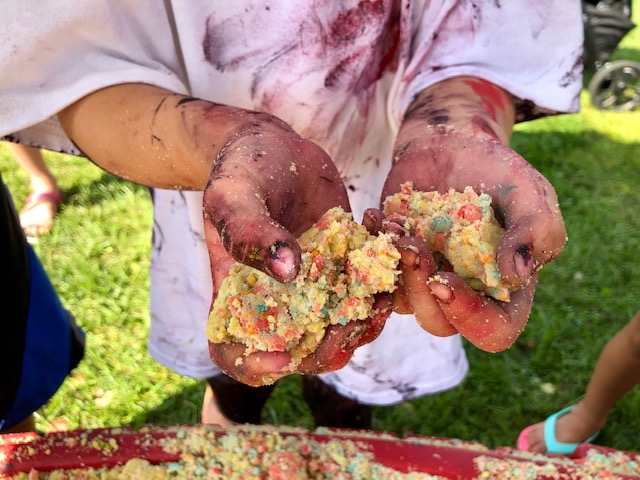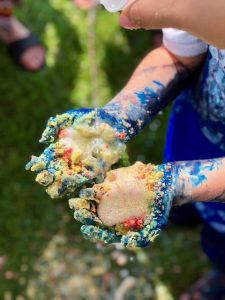 To us and surely to all those who attended, the Binghamton Macaroni Kid's Mess Fest was a huge success! This messy, colorful, science filled, and FREE community event was a really great outlet for kids to be joyous and carefree in a safe and controlled environment. There were a great variety of stations available with lots of different sensory engaging activities, as well as a number of wonderful organizations that provided parents/caregivers with valuable information! We are planning to be present and share information at many more community events in efforts to let families know about the services that are available in their area.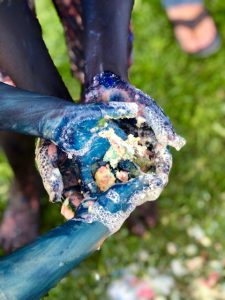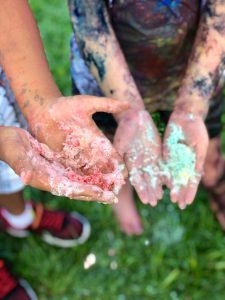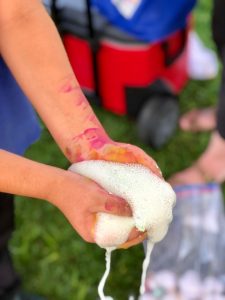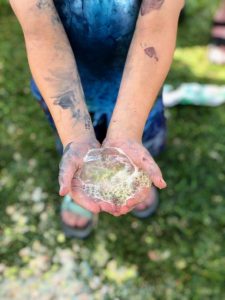 Recipe for Fizzy Cloud Dough: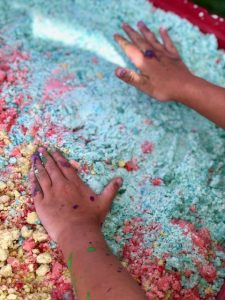 The recipe that we used to create our Fizzy Cloud Dough can be found at this link here – 
https://www.powerfulmothering.com/fizzy-cloud-dough-experiment/
We had almost as much fun making it in the office as the children had while playing in it!
Tip: we found that if you are using water based food coloring, by mixing the food coloring in a cup of water first then adding it to the dough mixture, you get a much more vibrant color without ruining the quality of the fizziness!